Shaken Baking Confidence
There was some strong verbal abuse to be heard in the BreadLab kitchen this morning. The air trembled with ancient Dutch strong language when that elusive and downright arrogant confectionery that calls itself "French Macaron" failed in the oven... yet again!
Four failed bakes in a row is a hard blow to take, but: Back to the drawing board! Retreat and start from scratch, learn from your mistakes and have another go! The battle is lost, but the macaron war is definitely on! The BreadLab vows to tame this fickle French "petite mandigotte" one day soon!
Meanwhile, to boost baking confidence, go back to what you know best. Let your genes take over and bake what is ingrained somewhere deep inside your memory. Something you know so well, you could reproduce its smell, taste and texture with your eyes closed, simply because it has been with you your entire life.
Dutch Macarons
Browsing the story of the
French Macaron
, it seems the intricate colorful variety we love so much today, hasn't been around in its present form all that long. In 1830 they were still served as two separate halves, spiked with liqueurs, jam or spices. It was Pierre Desfontaines of the French patisserie
Ladurée
who, at the start of the 20th century gave us the "Paris macaron" that is so "en vogue" today:
Around the same time, here in Holland things were hardly as gay as in Paris, where slums were taken down, the Grands Boulevards were taking shape, and the Paris we know today came into being. The industrial revolution brought a lot of money to the city.
Meanwhile, in Gouda (where the famous cheese is produced), a Dutch baker was at the other end of the wealth spectrum, and probably could only dream of colorful macarons in his shop window just like the ones in Paris.
Instead, he was wondering, in good old fashioned Dutch Calvinist spirit, if all those left over scraps of dough at the end of the baking day could still serve some purpose. He whisked up some molasses with brown sugar and cinnamon, put all the scraps of dough together, baked it into a wafer, sliced it in half, put in a big dollop of syrup in between the two layers, slapped them back together and sold them as "stroopwafels" (syrup wafers).
Two layers with a filling in between... Let's call it a Dutch Macaron! Not nearly as dainty and intricate as the French variety, but just as satisfying in the end ! And a perfect way to boost shaken baking confidence, since they are pretty much fail safe.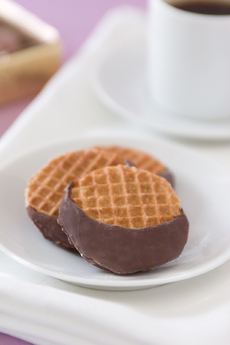 The stroopwafel took The Netherlands by storm, and the rest of the world is falling for it as well, or so it seems. In New York City they are dipped in chocolate and called
Dutch Moon Cookies
, for unknown reasons they are considered valuable bounty in a cartoon involving wolves
(note the small dutch flag on the side of the treasure chest!)
There is an
Association of Stroopwafel Addicts
, and even the fashion world has succumbed to this Dutch cookie, although wearing a
stroopwafel waist coat
sounds like a sticky undertaking! Lady Gaga goes Dutch?
And what about this tutorial on how to properly eat a stroopwafel?

The Recipe
All in all enough reason to get your waffle iron out and make your own stroopwafels! If you love these cookies, you will love them even more home made. Nothing can beat eating it fresh, crunchy and warm.
Here is the video recipe from the BreadLab.
Stroopwafels
for the dough:
4 cups (500 gr.) low gluten flour
1/2 TS cinnamon
1 cup (250 gr.) softened butter
1/2 cup (100 gr.) white caster sugar
2 large eggs
0.25 ounce/7 grams instant yeast
1/2 cup/118 gr. warm water
for the syrup:
1 1/2 cup (300 gr.) brown sugar
1 cup (250 gr.) butter
1 TS cinnamon
6 TBS dark corn syrup
Dissolve the yeast in the water and add to the flour together with the softened butter, the eggs, sugar and cinnamon. Combine all ingredients well, form into a ball and let it rest for about 45 minutes. It will have slightly risen by that time and the dough feels silky to the touch, but doesn't stick.
In the meantime, prepare the syrup mixture by gently heating up and dissolving the ingredients over a medium low heat, stirring in the butter and making sure the sugar doesn't burn. Once the sugar has dissolved, turn off the heat and stir every once in a while for a smooth consistency while it cools.
Heat up your iron to a medium high heat and form ping pong ball sized balls out of the dough. Put them in your iron and bake for about 30 seconds per cookie. Use a cookie cutter to cut out a perfect circle. Slice the cookie in two layers while it is still warm and use a thin sharp knife.
All that is left to do now, is put the syrup between the two halves and slap them together. The syrup might have cooled too much to work with; simply return it to the heat and gently warm it through again. Don't let the sugar burn!